Real Estate ERP is with the leading technology and business Solutions for the Real Estate industry locally and regionally. Real Estate ERP has pioneered the concept of on-demand, totally web-based applications for real estate.
Our philosophy has clear focus on respecting our customers' data and confidentiality, a fact that has been demonstrated over more than a decade of Binary Real Estate Software operations.
Real Estate ERP operates within a Single Entry, Single Source SM protocol to save your company time and money through the elimination of excess staffing, multiple system management, and data duplication. Binary Real Estate software will reduce your duplicate date entry with a one stop solution.
It is fully dynamic web application
There are two parts of this software. 1) Front End, 2) Back End
Features
Land Acquisition Module
Contractor Entry (Company itself can be a contractor)
Managing Hot Mix Plant
Other Utility Reports
Required Masters
Architect Record Entry (Diff. Phases)
Govt. Clearances
Utilities Like Notes, Scheduler and Calculator
Relevant Masters
Setting Up Levels (Min./Max./Re-order) For Item
Creating Requisition
Stock Adjustments
Stock Transfer
Receiving Material
Goods Issue
Utility Reports with Multiple Parameter Selection
Relevant Masters
Setting Up Different TDS Types
Entering Different Voucher Types
Cash Flow and Funds Flow
Checking Different Books, viz. Cash, Bank, Purchase, Journal, Day etc.
Utility Reports with Multiple Parameter Selection
Masters for Insurance Company, Policy Type, Machine etc.
Maintaining Pollution Details
Recording Insurance Details of Machines
Maintaining Machines
Loan Payment of Machines
Taking Care of Shifting Machines
Feeding Details Regarding Running Machines
Other Relevant Reports
Relevant Masters
Maintaining Pollution Details
Interfaces for Entering Different Internal Tests
Interfaces for Entering Different QC Tests
Relevant Reports
Master for All Elements, viz. Media, Advertisement, Qualification etc.
Schedule Interview
Do Recruitment
Enter Applicant Details
Process Interview Result
Relevant Reports
Relevant Masters, eg. Loan Type, Holiday Details, Office Timing, Salary Structure etc.
Allocate Allowances/Deductions
Claim Travel Expenses
Maintaining relevant challans (Issued by A/C department)
Attendance Details
Leave Requisition and Allocation
Taking Care of EPF, ESI etc.
Configure Pay Scale Vistors, Phone & Courier Management.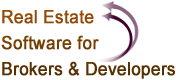 We at BC Software Services Pvt. Ltd. develop such software that is mainly useful for all the Real Estate agents, consultants, builders and highly potential individuals in the Real Estate industry.
To know details Contact Us.