BC Software Services Pvt. Ltd., well known as Binary Computer, is one of the best software developing companies in eastern region of India and growing fast to be one of the leading software companies in India, started its journey in the year of 2003.
From the very beginning we are dedicated to develop the quality and innovative ideas. Our main motto is not to compromise with the quality.
We at BC Software Services Pvt. Ltd. provide wide range of software with world class quality. We are committed to develop best integrated business solutions for the clients need and also consulting field, Web application and software testing.
We are aiming to deliver constantly best software using high end and latest technology. Our highly qualified and experienced developing team always research to develop more meticulous and customize software. We not only provide software but also provide best services till our clients' satisfaction.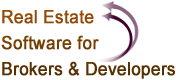 We at BC Software Services Pvt. Ltd. develop such software that is mainly useful for all the Real Estate agents, consultants, builders and highly potential individuals in the Real Estate industry.
To know details Contact Us.